A United States Coast Guard licensed Captain, Jeff Wansor has been fishing these waters in Jacksonville Beach, Florida for more than 35 years. He specializes in light tackle and live bait fishing.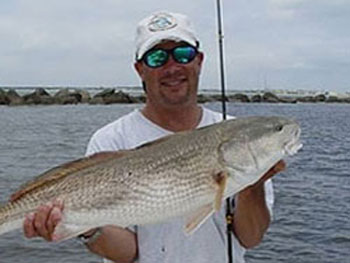 Back in the early 70's as a 9 year old, Jeff would row a 8ft handmade wooden boat built by his father up and down the canals of his neighborhood. Most days after school he'd grab his Zebco 404, a handful of saltydawg lures, and row the 1/2 mile to his favorite fishing spot in search of redfish & trout.
At 12 years old, his dad bought him a used fiberglass boat with a 3HP SeaBee motor. This opened the door to many more fishing locations along the intracoastal waterway and nearby canals. At 14, he was allowed the use of his father's 17ft Center Console Aqua Sport with a 100hp Johnson. This boat really extended the range of his fishing.
Today, at age 45, Capt. Jeff Wansor guides his charters out of a 20ft shallow draft Sundance skiff with a 115HP Yamaha 4-Stroke. This boat can comfortably fish up to 4 anglers and has the ability to get way back in those skinny water creeks. The wide beam and high gunnels provide the stability and safety to also fish the St Johns River, Mayport jetties, and along the Jacksonville coastline.
The past 35 years of fishing locally has given Capt. Jeff the knowledge and experience to make your charter successful. Jeff is a very personable, easy going, friendly guide. He will do everything in his power to ensure that your charter will be one to remember.